Giggles the Clown
Parties & Stage Show
That's FunTAZ®Shtick!
Giggles the Clown is proud to be part of the FunTAZM Entertainment, offering her own Sing Along Stage Show and coming to parties for children! Her blast of high-energy fun & laughter will entertain young and old alike!
BIRTHDAY PARTIES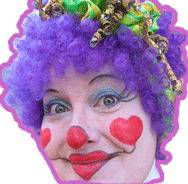 Giggles the Clown will come to your party dressed in her colourful clowny costume and present a short show followed by balloon animals for all the children at the party! Your children will have a FunTAZTIC time!
Sing-Along with Giggles Stage Show
Delight your young audience with action songs and clowny antics in this high energy show for kids which debuted at the Royal Saskatchewan Museum in 2006.
Giggles' background in clowning started in Edmonton in the early 90's through her work with Sir Unicorn Special Events and Stage Polaris. Giggles was an interactive clown for numerous carnivals, private parties, and Family Fun Day's in Edmonton and surrounding area. During that time, she also toured Alberta and B.C. teaching clowning workshops to children in elementary schools.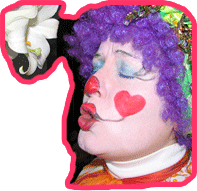 Giggles was part of the Saskatchewan Roughriders pre-game festivities in their Grey Cup Winning Year of 2007. She was part of many centennial celebrations in 2005, and was also an active participant in the Wheels In Motion 2003 Fundraiser, helping to raise funds, increase awareness, and support the morale of all the participants.
Other Parties and Entertainment for Children



Children will be learning while having a great time with these interactive shows based on science!




Create a zoo of animals, throw in some scary characters, and then invite some superheroes to save the day.




When all you want is someone fun to make balloon animals for you...
More Stage Shows and School Programs for Children